Marvel ha anunciado la lista y el equipo creativo para la Legión de X, uno de los muchos nuevos títulos que hacen girar fuera de la X-Men's era de Destino de X. El escritor Si Spurrier (X-Men Legacy, X-Force) y el artista Jan Bazaldua (Winter Guard) continuarán la historia que Spurrier estableció en Way of X mientras se preparan para traer paz, amor y justicia a Krakoa. Descrito como una "historia de conjunto al estilo de un distrito" por Spurrier, Legion of X reúne a los favoritos de los fanáticos como Nightcrawler, Juggernaut, Pixie y más para manejar las amenazas internas de Krakoa, similar a los policías que trabajan para mantener la paz en una ciudad.
"Quería hacer una historia de conjunto al estilo de un distrito desde que leí por primera vez HOUSE OF X. Por primera vez, el Universo Marvel tiene esta población de superhumanos densamente poblada, hermosa (y maravillosamente volátil), al aire libre, todos en un solo lugar. Se necesitan fuerzas de paz, claro… pero es un error pensar en ellos como simples policías. No llegarás muy lejos en Krakoa si el límite de tu imaginación es golpear a la gente o alcanzar un arma. La civilización mutante necesita esos que piensan diferente", dijo Spurrier en un comunicado.

"Ahí es donde entran Nightcrawler, Legion, Pixie y Juggernaut, junto con un elenco rotativo de tus mutantes y no mutantes favoritos. Y un par de caras nuevas que querrás ver muy, muy de cerca…" añadió.
Spurrier también habló sobre su socio artístico Jan Bazaldua y la cohesión colaborativa de X-Office:
"No podría estar más orgulloso de estar al frente de este nuevo título, con la increíble Jan Bazaldua haciendo el trabajo de su vida. No es ningún secreto que la Los escritores de X-office han formado una de las células más estrechas de creatividad aditiva de títulos cruzados en nuestra industria. No es exagerado decir que los eventos que encontrarás en LEGION OF X son fichas de dominó que se están volteando cuyas cadenas de repercusión alimentarán el mayor terremoto en el mundo del cómic moderno, que está retumbando devastadoramente por la tubería hacia ti incluso ahora…"
Legion of X se une a Immortal X-Men, Knights of X y X-Men Red como parte del lanzamiento de la línea X-Men de Marvel esta primavera. Mientras tanto, Marvel promete "cambios de status quo revolucionarios" para los títulos continuos como Wolverine, New Mutants y Marauders.
"¡El viaje de la Era Krakoan está lejos de terminar!" El editor senior Jordan D. White dijo en un comunicado de prensa. "Nuestro plan a largo plazo en el que todos nuestros creadores han estado trabajando en nuestra Cámara secreta del Consejo apenas ha comenzado a concretarse. Con el llenado de los dos asientos vacíos del consejo, el Reinado de X ha terminado, ¡y es hora de que los mutantes para alcanzar su destino!"
Los datos de la publicación son:
LEGION OF X #1

Written by SI SPURRIER

Art by JAN BAZALDUA

Cover by DIKE RUAN

Teaser Variant Cover by BOB QUINN

On Sale 4/20

To remain a mutant sanctuary, Krakoa must safeguard itself against those who would damage its peace or traumatize its people. The lost must be found, and the wicked must face redemption — or retribution. It's up to the ever-soulful swashbuckler Nightcrawler to keep the spark alive and the omega-level mutant Legion to host a unique team in the psychedelic mindspace called the Altar. With a host of X-Favorites on the beat including magical young X-Man Pixie, one-man riot squad Juggernaut, the recently-returned and ever-mysterious Blindfold, the X-Men's resident super genius Dr. Nemesis, and more, the Legion of X will do anything to protect mutants' right to pursue happiness and hope. The team will come out of the gate with some of the most intense missions Krakoa has faced to date including a hunt for a missing Arakkii god, a skinjacker possessing innocent mutants, and a villain worth praying for… Prepare to meet these exciting new additions to the X-Men's iconic rogues gallery as LEGION OF X bares mutantkind's heart and soul!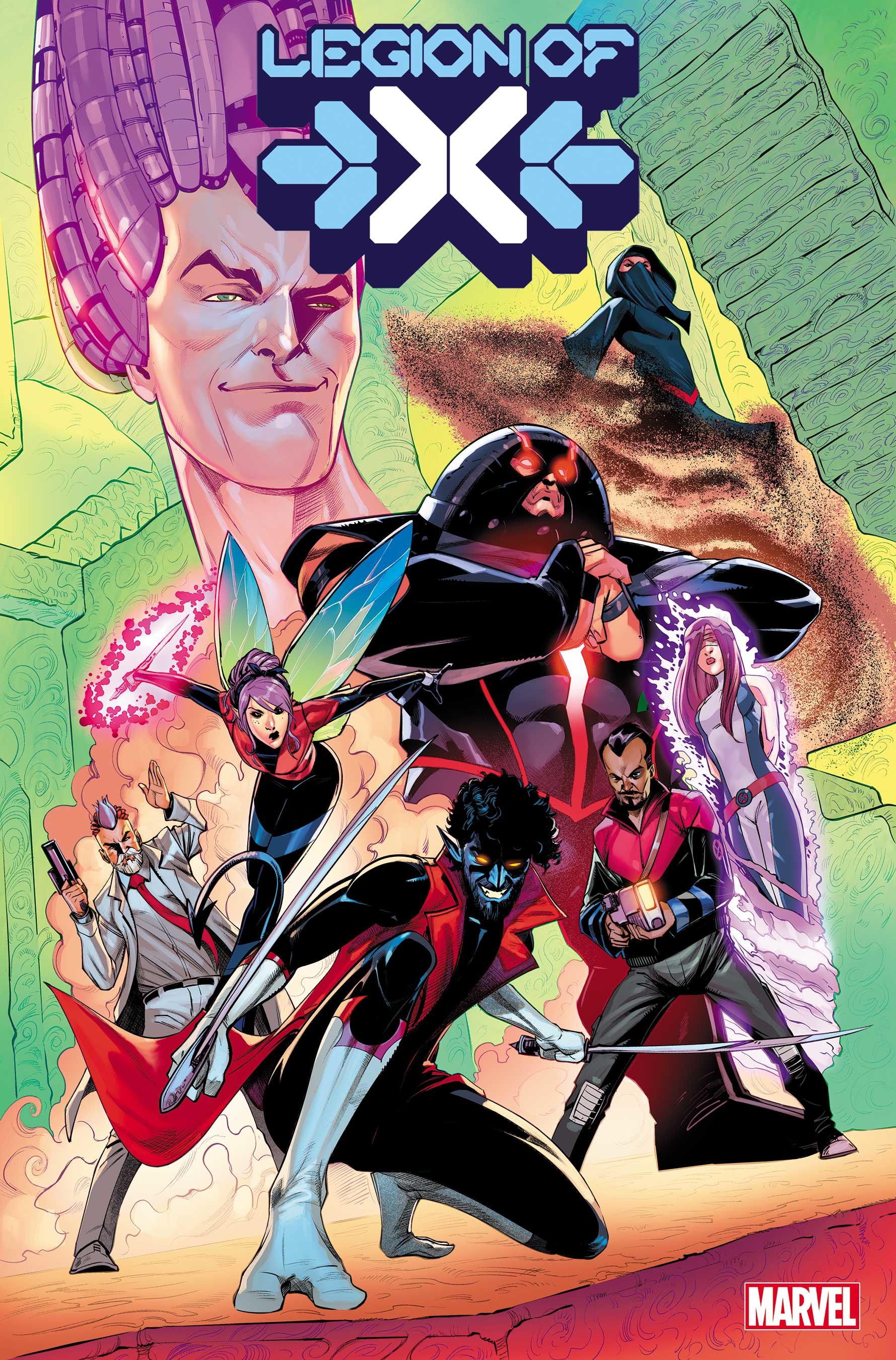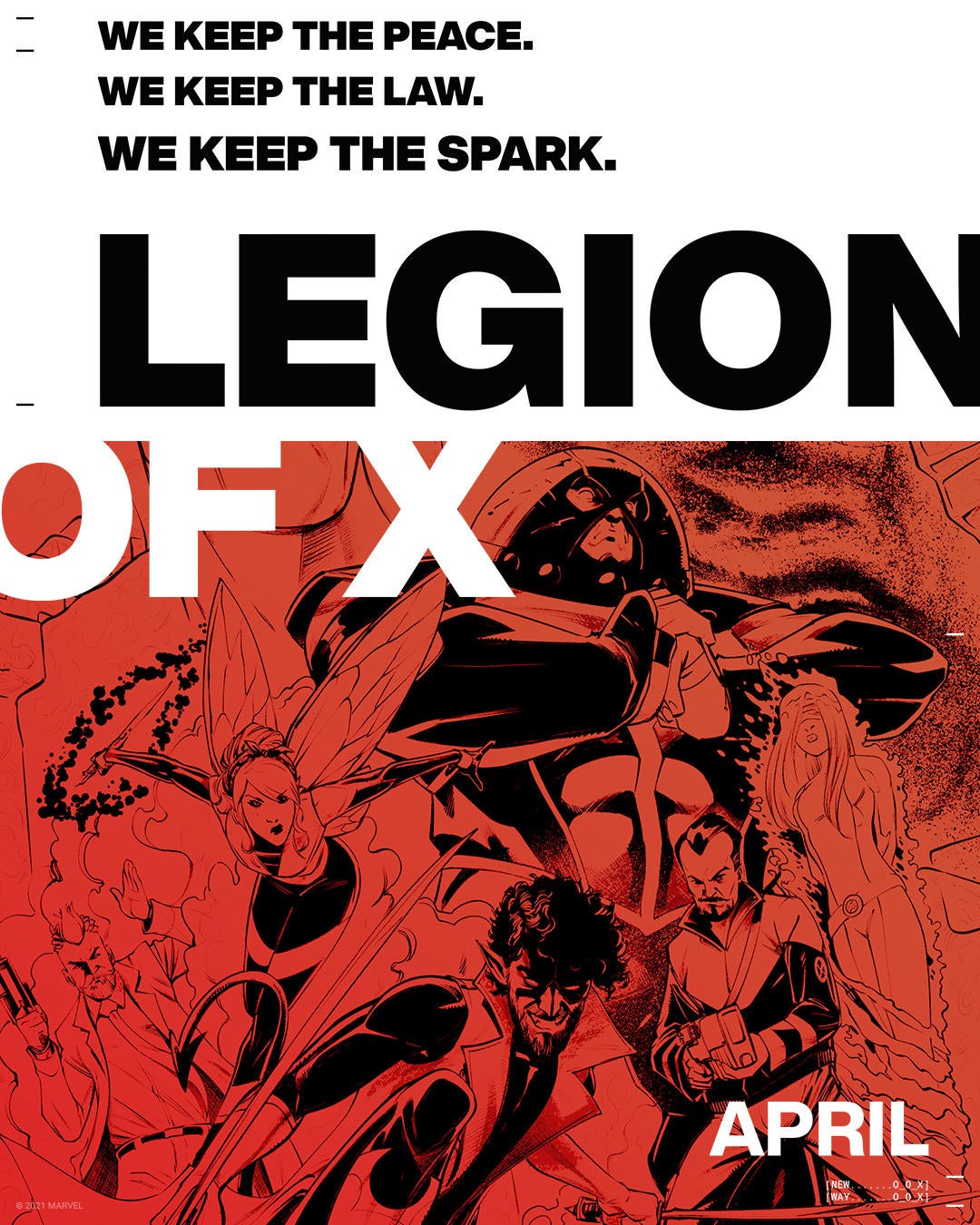 Fuente: Comic Book